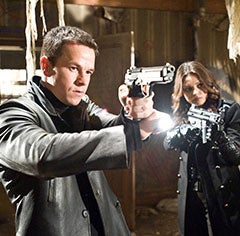 Time to unzip your Happy Weekend Suit and step back into your Monday Morning Iron Maiden: The work week is again upon us. Quick—jumpstart your productivity with some box office numbers before someone finds your position detrimental to the bottom line: 1.
Max Payne
- $18 million Fresh off his
ass-whispering turn
on an especially excruciating, Sarah Palin-boosted
episode of SNL
, it's Mark Wahlberg who's doing most of the laughing today: The actor's latest cinematic foray clicked with young male moviegoers, despite being dismissed by most critics as being hyper-stylized junk, like some spiraling turd floating in the Wachowski brothers's septic tank. Still, not all were left unimpressed, as a giddy Colin Powell, his eyes reflecting a steady downpour of slo-mo bullets, gushed to his wife that the "transformational" third-person-shooter adaptation who would "electrify" our country's fanboy electorate.2.
Beverly Hills Chihuahua
- $11.2 million Audiences continued to roll onto their backs and squirm in delight as they had their bellies rubbed by Disney's bat-eared superstars. Not surprisingly, then, the hit's microscopic sequel—
Fleas of Beverly Hills Chihuahua
, about a poor, parasitic insect family that hops from rich chihuahua to rich chihuahua so that their children can enroll in the area's public schools—is being rushed into production. 3.
The Secret Life of Bees
- $11.05 million
Gracefully developing
,
is-she
-or-
isn't-she
-
stroppy
? superstar Dakota Fanning and friends balanced out the vast gender divide for Fox, giving their Searchlight label the women who avoided
Max Payne
like the plague. "We had something for everyone,"
explained Fox VP Bert Livingston
, temporarily forgetting about the 99.999999% of the world's population interested in neither. 4.
W.
- $10.55 million Let's run down
W.
's numbers: It's Oliver Stone's
fifth-best opening ever
, right behind
Natural Born Killers
. Exit polling showed 47% of audiences were over 40, 90% don't like the President, 80% were voting Obama, and 6% McCain. A round 100%, however, thought the movie was intermittently engaging, but by and large a cojones-deficient mess. 5.
Eagle Eye
- $7.343 million "If you want to live, you'll do as I say. Now get wasted, hook up with Adrian Grenier's girlfriend, and lose a pinkie nail in a near-fatal car accident at the corner of Hollywood and La Brea. You'll get your next instruction there."