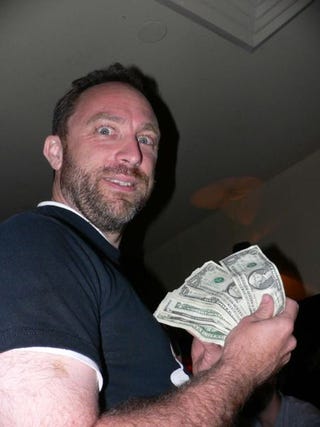 Bid goodnight to Jimmy Wales's dream of cashing out on Wikipedia, the world's largest collection of infrequently asked questions. The vehicle for his scheme, a derivative for-profit startup called Wikia, is imploding. A tipster tells us that the 43-person company has laid off 30 percent
of its staff
. (
Update:
The company now says it has only
laid off 10 percent of its employees
.) Wikia lets users build their own anyone-can-edit wiki pages. Unlike Wikipedia, Wikia sometimes runs advertising on the wikis; its most popular sites have to do with videogames. So why the layoffs?A source who has seen Wikia's numbers says the company is experiencing "a hemorrhaging of cash circa 1999" — losses, in other words, like the first generation of dotcoms. No surprise there, since it has offices in San Francisco, New York, and Poland, and many of its products, like Wikia Search, are staggeringly unpopular. Wikia raised $14 million in venture capital from Bessemer Venture Partners and Amazon.com, the last of which came in December 2006; without a new infusion, it must surely be running low on cash.