Neel Kashkari
is the intense young man tapped by the Treasury Department to lead our nation's financial bailout. The national media could paint only the most basic picture of him: a high-achieving
Republican ski bum
who rose quickly from
Wharton
to Goldman Sachs to, today, a position of national import. But guess what, friends: we have obtained Neel's 1991 senior high school yearbook page. Yes, the
same
page that
a former teacher at Neel's school told us
truly reveals his egocentric, douchebag nature. And it is
epic
. Rush quotes! Bush quotes! And the infamous Ferrari! Luxuriate in the awesomeness of our savior: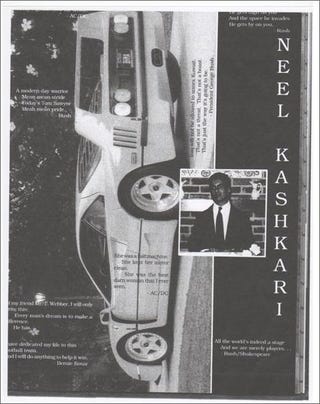 SOME OF NEEL KASHKARI'S FAVORITE QUOTES:
A modern day warrior Mean mean stride Today's Tom Sawyer Mean mean pride.
- Rush
She was a hit machine She kept her motor clean She was the best darn woman that I ever seen.
- AC/DC
I have dedicated my life to this football team And I will do anything to help it win.
- Bernie Kosar
Iraq will not be allowed to annex Kuwait. That's not a threat. That's not a boast. That's just the way it's going to be.
-President George Bush
All the world's indeed a stage And we are merely players...
-"Rush/ Shakespeare"