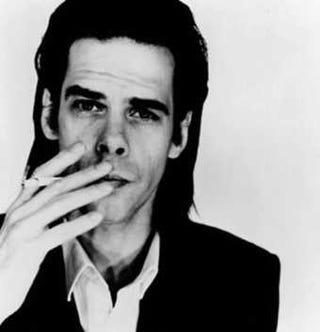 Musicians writing novels! Alterna-MILF Liz Phair
is writing one
, Ryan Adams is publishing a novel
plus
a book of poetry, and the
Observer reports
that Bad Seed Nick Cave has just sold his second, titled
The Death of Bunny Munro
. Cave's first novel, published in 1989, was called
And the Ass Saw the Angel
. It was really good,
according to Galleycat
. They also add, "Cave once chewed us out on a nationally syndicated radio show when we called in to say how much his novel reminded us of Flannery O'Connor!" Geez, what an insult. An excerpt of his first book follows.You'll notice two things here: first, all I did was search inside the book for the word "sex," naturally. Secondly, Cave shows a fondness of writing in regional dialect, like Irvine Welsh and Eugene O'Neill.