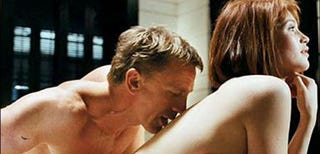 The first reviews of
Quantum of Solace
are in, a mixed lot providing a mostly underwhelmed response to a shorter (in running time, not baby-blue-mankini hemlines) Bond film. Bottom line:
Solace
is packed with brooding,
Bourne
sian action, but lacking in all those touches that—you know—leave an audience more stirred than shaken. What all manage to agree upon is the effectiveness of Daniel Craig in the lead, as well as the excellent performance delivered by Gemma Arterton, an actress who sinks
all dozen of her claws
into a small but pivotal role. Here's a sampling of what critics are saying:· "It's James Bond, licence to bore....Bond is a boorish oaf who simply rushes from country to country with the manic speed of Jason Bourne, including sequences shot in Panama, Chile, Italy, Mexico and Austria, in a plot about holding a country to ransom over its water supply...
Quantum of Solace
lacks any wit, ironic or otherwise, which has been a strength of so many 007 films...At around one hour 40 minutes, this Bond is shorter than most. Somehow it felt longer." [
Times Online
] · "
Quantum Of Solace
doesn't seem like a major entry in the Bond canon. Well under two hours long, it's shorter and more frenetic than most of its predecessors, and an often-jolting experience to watch. Loose ends about. What it does have, though, above all, is vigour." [
The Independent
] · "I was disappointed there was so little dialogue, flirtation and characterisation in this Bond: Forster and his writers Paul Haggis, Neal Purvis and Robert Wade clearly thought this sort of sissy nonsense has to be cut out in favour of explosions." [
The Guardian
] · "One wonders if director Marc Forster and screenwriters Paul Haggis and Neal Purvis haven't tried a little too hard to distance the film from traditional Bond plots. The expository dialogue scenes can be dull, and cram in so many machinations and double-crossings that it's easy to lose track of who's duping whom." [
Telegraph
] · [SPOILERS] "Mostly it doesn't feel like a Bond film at all. Not once does Craig say: "The name's Bond. James Bond." There's no Q or his gadgets. Heck, we even see Bond in a cardigan. There are no risque quips or arched eyebrows. This Bond is a soul in torment having lost the love of his life when Vesper Lynd drowned...It doesn't disappoint - just don't expect the brilliance of Casino Royale. [
Daily Mail
] · "The raw nature of the film may put off some who yearn for the days of gizmos, gadgets and Bond quips as he dispenses with faceless opponents...It's a film that feels like the second part of a trilogy, with this being the bleaker second act." [
BBC
]