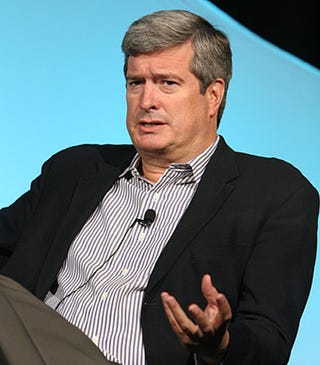 Most magazines keep their Web and print staffs apart, a legacy of petty rivalries, bureaucratic turf wars, and a fear of change. But Forbes Media has elevated balkanization into an art form. The two sides of the company barely speak to each other. The Forbes family tolerated this, but Elevation Partners, the Silicon Valley private-equity fund which counts Bono as a partner and now owns 40 percent of Forbes is not so patient. A tipster tells us that a "big shakeup" is coming, with the editorial staffs of both magazine and website getting "smashed together."Literally, in the real-estate sense. In New York,
Forbes
is housed at 60 Fifth Avenue, while Forbes.com is at 90 Fifth Avenue. Now, the publisher is said to be taking a floor at 60 Fifth to house the dotcom reporters, while it clears out "deadwood long-timers." The new mandate: Everyone will write for both Web and print. Which sounds sensible — unless you work at Forbes. What Forbes is not planning to announce: What sounds like a merger is really a takeover — by Forbes.com. Jim Spanfeller, the publisher of Forbes.com, will run the combined operation. "It's a massive coup, one that print people have long seen coming and long feared," says our tipster. As well they should: The editors of
Forbes
have long looked down on their Web brethren. Now they will be working for them.