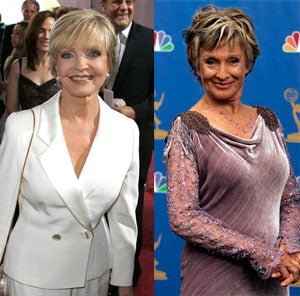 While it wasn't hard to see some of today's blowups coming, we were unprepared for the latest feud to hit Hollywood: Brady Bunch materfamilias Florence Henderson versus resurgent Dancing with the Stars hoofer Cloris Leachman! The 82-year-old Leachman has paso dobled her way into America's hearts over the past few weeks with her patented brand of cussing and cleavage , but to fellow Dancing vet Henderson, that simply isn't how its done ! She spilled on her anti-Cloris crusade to Life & Style :
"I hope the audience doesn't think all older people act like her," said Florence, 74. "I love Cloris, but sometimes she acts like she's not all there, or she's wandering around the ballroom acting silly." So far, the Emmy winning octogenarian's antics include letting judge Bruno Tonioli kiss her leg and using language that had to be bleeped when scores with partner Corky Ballas were announced. Cloris "is given a lot of leeway because of her age," Florence tells Life & Style. "But you also have to respect the rules, the show and what it's about."
Florence, don't you think you should save your offended sense of decorum for your on-screen daughter Maureen McCormick? Thus far, her Marcia Brady-despoiling press tour has involved
anal sex
,
congenital syphilis
, and a
cracked-out encounter
with Steven Spielberg. Please, stop her before she recalls
snorting huge rails off of Tiger
.
[Photo Credit: AP]