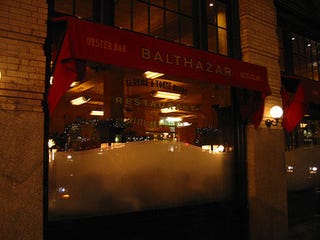 Even more
on people not meaning what they say, but somehow saying what they mean. Toby Young, the buffoonish Brit who parlayed getting fired from
Vanity Fair
into books and a movie,
writes about the social perils of fame
. Now that he's known—and "knows" lots of people—"whenever I am introduced to anyone I make a point of smiling warmly and saying 'good to see you'—a deliberately ambiguous greeting that leaves open the possibility that the person in question made a vivid impression on me first time round." Let's examine more coded cocktail-party industry-networking chatter.
"What are you working on/doing?"
Translation
: I'm working on lots of awesome projects. Let me tell you about them! Oh... well, don't worry. I'm sure things will pick up for you soon!
"Call me!"
Translation
: Because I won't be calling you! If I was really so interested in getting in touch with you, believe you me, I would stab somebody's assistant to get access to their Rolodex.
"We should have a drink soon;" "Let's get coffee sometime."
Translation
: I am exiting this conversation, but politely, in a way that makes you feel worse, because let's be honest, there will be no drink or coffee, "soon" or otherwise. Haha, that's just what I tell people. Isn't that clever? Makes them feel "included."
"I'm going to get another drink/use the restroom."
Translation
: I am exiting this conversation. Also maybe: "cocaine"! (Not sharing/inviting.)
"Here's my card."
Translation
: I am exiting this conversation. Oh, by the way—that card contains the e-mail address that I
never
check.
"Yeah... yeah... yeahyeahyeah, I totally agree."
Translation
: I'm not paying attention because I'm scanning the room over your shoulder—OMG, George! HI GEORGE! So good to seeeeee youuuu! (Oh, you know what's the
worst
? When some fucking Patrick McMullan photographer or Mick Rock or whoever motions for you to "move over" because he doesn't want you in the picture.)