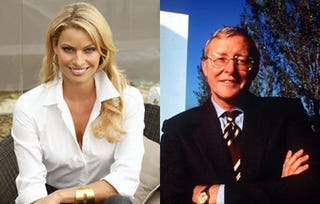 Gazillionaire Netscape founder Jim Clark is
getting married for a fourth time
— and the bride wore very little. Her name is Kristy Hinze, an Australian swimsuit model who has been
dating Clark for some time
. Hinze is 28, Clark is 64.Hinze, the host of
Project Runway Australia,
was first spotted on Clark's $100 million megayacht, the
Athena
, two years ago, while Clark was wrapping up a $125 million divorce settlement with ex-wife Nancy Rutter, a former
Forbes
reporter, PEHub
notes
. Small world: Hinze will be YouTube founder Chad Hurley's stepmother-in-law. He's married to Clark's daughter Kathy.