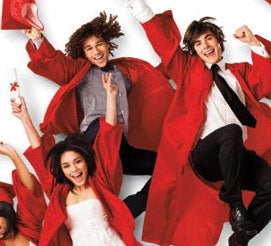 Disney's back-ordered fleet of Brinks trucks had better arrive soon:
High School Musical 3: Senior Year
is tracking for
a $38 million opening weekend
, with
Beverly Hills Chihuahua
anticipating another $6 million in its fourth week of release. Those grosses would likely land the all-ages tandem together in the Top 5 at the box office — the first time two non-Pixar Disney titles have shared that space
since 1994
. Useless trivia? We think not — and we aren't alone.Nikki Finke has her own
interesting read
this morning, pointing to the even rarer phenomenon of a cable movie franchise so lucratively crossing over to the multiplex. Series are one thing, and rarely a lock themselves (Disney only had a
Hannah Montana
blockbuster at the ready because it brought cameras on tour with Miley Cyrus), but we'll buy lunch at the Grill for the first reader who can name a made-for-TV feature that spawned a theatrical No. 1. (Opposite another cash cow like
Saw 5
, no less.) And then s/he can buy us a life. We'll have more fearless predictions tomorrow in our
Defamer Attractions
column, but in the meantime, expect Disney to have greenlighted
Camp Rock 3D: Escape of the Jonases
for IMAX by the the time you finish reading this sentence.