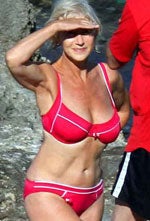 · Taylor Hackford is shopping around
Love Ranch
—a brothel drama starring wife Helen Mirren (oooh!) and Joe Pesci (ewww!)—to studios in search of a distribution partner. [
Variety
] · Javier Barden has signed on for Alejandro Gonzalez Inarritu's new movie,
Biutiful
, a Spanish-language film about "a man embroiled in shady dealings who is confronted by a childhood friend." We smell cattle bolt fumes! [
Variety
] · Netflix, who we dumped since they decided to start charging more to rent Blu-ray (you hear us, Netflix? That's the reason. It wasn't us, it was you. Now stop e-mailing, because we found a new rental boyfriend) has hooked up with Samsung, whose new Blu-ray player is equipped to stream their movies. [
Variety
]
After the jump: What director does DreamWorks have on tap to fill Chicago 7 with cameos by his friends?
· DreamWorks's
The Trial of the Chicago 7
is courting director suitors, having met most recently with Ben Stiller, who assured Steven Spielberg he'd only go quarter-retard in his portrayal of Abbie Hoffman. [
THR
] · Juan Carlos Gonzalez—who'd certainly adorn any Wheaties box celebrating the Neutral Olympics—looks to be the mediator brought in to oversee SAG-AMPTP talks. We're all but certain this will enliven the proceedings, as anyone who knows Gonzalez knows he can bring even the most bitter of enemies together through the power of mime. [
THR
]