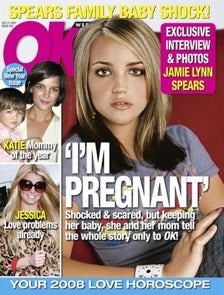 Teen pregnancy just isn't the Oscar-nominated, tabloid-cover romp Hollywood makes it out to be, according to a
new report
released today in Chicago. Amid the gloomy data noting 400,000 such births per year (at a public cost of $7.6 billion), experts cited increasing cultural influence among girls who look to Jamie-Lynn Spears, Bristol Palin and even
Juno
as models of upstanding teenage motherhood. Alas, as you probably could have guessed, the experts at a subsequent panel discussion begged to differ:
In each case, the real and fictional teens come from supportive, financially stable families, and seemed to be on track to have an array of future opportunities that a more typical teen mom might lack. "It's been glorified all over the place," said Evelyn Rodriguez, 34, a New Yorker from a low-income background who gave birth to a son at 15 and now, after more than a decade of juggling jobs and classes, is on the verge of earning a college degree. "People who don't have the money and great support, they say, 'Oh, wow, they're doing it — it's cool,'" said Rodriguez, referring to Spears and Palin. "But it's not cool. I've been through it. It's a job. I don't appreciate what's going on out there making it seem so beautiful, when it's not."
The panelists went on to agree that the Spears/Palin stories remain missed opportunities for a "serious national discussion of teen motherhood" — and that's not even counting the steep cultural cost of Diablo Cody winning an Oscar
and
maintaining a blog
. We have seen the Third World, and it is us.