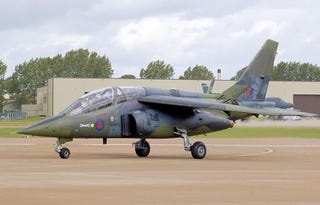 There's a
new party plane
at Moffett Field. Not another boring Boeing — this one's a Dornier Alpha Jet, a German/French built fighter plane that seats two. The New York Times is updating its report faster than I can retype, so I'll skip NASA's phony backstory and cut to the facts: "It is not clear who exactly owns or flies the fighter jet.
Mr. Schmidt is an avid pilot
." I'd love to replace this Wikipedia stock photo with shots of the real thing. Pics or it didn't happen, right?