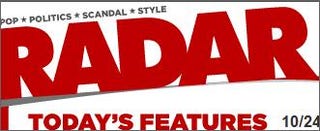 As
rumored
,
AMI
has bought the website RadarOnline.com, just as the print version of
Radar folds
. That, incongruously, puts the site under the same corporate umbrella as the celebrity mags
Star
and the
National Enquirer
, which may now become off-limits for mockery. The site will be "relaunched" in 2009. Judging from the tone of the press release alone, the site may well be repositioned to be far more credulous in its celebrity coverage, and consequently less funny. The effect on the RadarOnline staff is not clear yet; we'll fill in details as they come. Full press release from AMI below: American Media Inc. and Integrity Multimedia Company form joint venture to launch a new and enhanced RadarOnline web site
(October 24, 2008, New York, New York) – American Media Inc. (AMI) today announced they are partnering with Integrity Multimedia Company in creating a new company, Radar Online LLC. Integrity Multimedia will make a multi-million dollar investment in RadarOnline.com to launch it as the ultimate destination for breaking celebrity news and cutting edge pop culture. RadarOnline.com will be supported by the AMI news organization and its network of hundreds of newsgatherers and thousands of sources. In addition, the Radar Online site will also have its own staff of editors, reporters, photographers and videographers . In the first of many announcements to be forthcoming, American Media Inc. Chairman and CEO David Pecker said that David Perel, Executive Vice President of AMI News, will leave that position to become managing editor of RadarOnline. At AMI, Mr. Perel was responsible for breaking many of the biggest celebrity stories of the past two decades. Mr. Pecker commented, "The AMI newsgathering team that David Perel has at his disposal for the new site is unmatched in the celebrity market, as is the access we have to past, present and future pop culture milestones. Our message is simple - if it's on your radar, it's on Radar Online, and if it's not on your radar, we'll put it there." Integrity Multimedia Company Chairman Yusef Jackson added "By teaming with AMI, we will build on what we have already established with Radar while at the same time accelerating the potential for our return on investment. It is a win/win for both partners." Plans call for RadarOnline.com to launch a redesigned site in the early part of 2009.