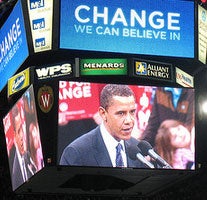 · TV networks are going bananas with their election night coverage, including competing Times Square broadcasts: ABC on the JumboTron, Fox News on the AstroVision monitor, and MSNBC on the OlbermannGiantForeheadSonic. [
Variety
] · Rejoice virginal fantasy nerds! Columbia is producing a movie of
Deryni Rising
, the first book in the
Deryni Kingdom
cycle— a series set "in a medieval kingdom...of people with psychic and magical abilities." [
THR
] · Exquisite weirdo Crispin Glover has joined the cast of Tim Burton's motion-capture
Alice in Wonderland
. He'll play the Knave of Hearts, on trial for tart-stealing treason. [
THR
]
After the jump: Which of the two men to play Mike Brady is joining the cast of Entourage?
· If Gary Cole could go ahead and join the cast of
Entourage
for three episodes, playing Ari's "oldest Hollywood friend," that'd be great. All right! [
THR
] · Now Paramount is negotiating with Chris Columbus to star in
Ripley's Believe It or Not!
, which is still set to star Jim Carrey...
B
elieve
I
t or
N
ot! [
Variety
]