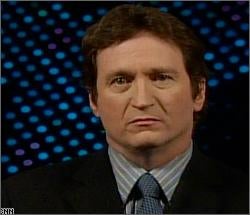 The new editor of RadarOnline.com—presumably replacing
Alex Balk
—will be David Perel. He's the current
editor
of the
National Enquirer
! So what does he do on the same day that AMI
buys the website
and everyone there gets laid off?
He tells CoverAwards
, "I have already been contacted today by some top entertainment and news journalists who want to be part of this new venture. I am looking forward to putting together a new team that is the best of the best. We are hiring now!" Uh, is it just me or is that an enormous prick move?