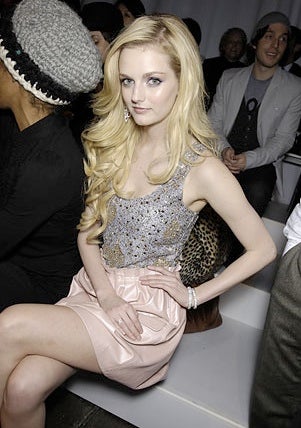 Model/publishing heiress/socialite Lydia Hearst—who once proudly listed "journalist" among her occupations (presumably with a straight face)—just quit her column in
Page Six Magazine
. "The Hearst Chronicles" was full of zeitgeisty revelations like "I just ordered banana-scented scratch-and-sniff wallpaper for my kitchen," but the porcelain-skinned model did win points with us for
slamming
Hearst Publications for not canceling their Christmas party amid layoffs and a recession. But wait—
Guest of a Guest
reveals Lydia's resignation letter, in which she says she didn't even
write
the item criticizing Hearst:
"As a result of the article titled "Blood Dispute" in the October 24th issue of Page Six, I am compelled to resign from my position as Freelance Journalist for Page Six Magazine. I did not, and would not, write such an article as the one to appear as my Page Six magazine column in this Sunday's Post.
The item
first appeared
as
Page Six
newspaper item, touted as a "preview" to her Sunday magazine column. So they just... made it up? Who knows, but that's what Lydia is suggesting.
Update
! She just told Gawker that the parting was "amicable," adding
"I have always written my column, and as every writer I had an editor... If I wrote something I would stand behind it (as I have always done), but I now have to take the heat for something which was added to my work and that I did not write."
She also said in her resignation letter, "I can no longer continue my association as a journalist," to which we can only respond with an excerpt from one of her past columns:
"I'm pretty comfortable posing in my underwear. You may have seen my new campaign for British lingerie company Myla, which has spawned a bit of mudslinging on the Internet about how I'm Paris Hilton. (Remember: I am a supermodel and have the award to prove it, and she is a celebrity. There's no comparison.)"
[Photo:
Style.com
]