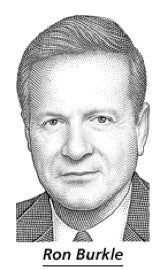 Ron Burkle, supermarket magnate and friend of Bill Clinton and sleeper-with of models,
used to own a magazine, with his friend Yusef Jackson
. The magazine was called
Radar.
Last Friday, Jackson and Burkle closed the magazine and sold its carcass to AMI. It's not really clear why Jackson and Burkle invested in
Radar
to begin with, except that they wanted to be media moguls, maybe? Then it turned out that being a media mogul doesn't mean publishing one sarcastic niche title, really. Burkle made his money with supermarkets. It is quite profitable, of course, to own all the supermarkets, because people need to eat. But, you know, it's not very glamorous! And Burkle enjoys flying around on his private jet with famous people, and globe trotting with politicians, and partying, and models. He likes models. One can enjoy this lifestyle with supermarket billions, but isn't it more fun to enjoy it with media holdings? So at some point he and Jackson decided to invest in Maer Roshan's crazy magazine about "pop and politics and pop culture and scandal and pop" or whatever the hell the tagline of
Radar 3.0
was. And they gave him 15 issues to do with as he pleased, and he did eventually turn out a pretty good product. But the money wasn't there, because it was a new magazine, and there's not even money for old magazines anymore. And honestly it was probably not as exciting and fun to own a magazine as Burkle thought it would be! It's tough, because he also wanted to
secretly
own the magazine, and no one who secretly owns things gets the same pleasure Rupert Murdoch does from personally tearing up the
Wall Street Journal
and remaking it in his image. And Murdoch loves newspapers. There's really never been any evidence that Burkle loves magazines. Murdoch will take a loss for years on something like the New York
Post.
Burkle
didn't give Roshan the five years he said it'd take to break even
on
Radar
before he pulled the plug. Because if it's not subsidizing his lifestyle, it's not worth the cash. He's a capitalist, obviously, and
Radar
was not a charitable endeavor, but if we had his fortune we wouldn't mind wasting it on the talent Roshan brought together. Back to controlling distribution and sales of food! Unlike media, mac and cheese is recession-proof!