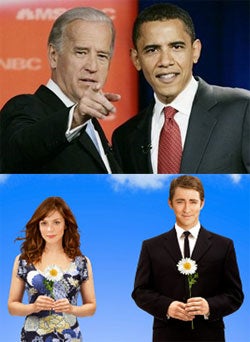 ABC will
remain the lone holdout
in the Obama campaign's plans to hijack all of network TV this Wednesday, perhaps solidifying our "
Watch TiVo Kill
" authors' easiest day yet. To wit — 8 p.m on ABC:
Pushing Daisies
. 8 p.m. everywhere else:
It's the Great Pumpkin, Barack Obama
, or whatever the presidential front-runner has up his tailored sleeve less than a week until Election Day. Guess along with us after the jump.Obama
picked up
a half-hour of prime-time air from CBS, NBC and Fox on Oct. 9 for $1 million apiece.
The Live Feed
reports that ABC offered its own 8 o'clock block around the same time, only to be rebuffed by the campaign for unknown reasons. Meanwhile, the participating networks have yet to learn what the candidate has in mind for his special — whether he might stick with Ross Perot's tried-and-true "
Pie-Chart Filibuster
" model from the 1992 campaign, or something a little more contemporary, like a modified version of
Jeopardy!
where every uplifting clue yields the queries "Who is Barack Obama?" and, we guess, for those three Daily Doubles on the board, "Who is Joe Biden?" We'd hate to see anyone left out.