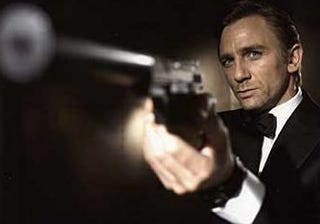 The early returns on the new Bond flick
Quantum of Solace
before its Nov. 14 release date have been mixed, with critics describing, for better or worse, a movie that consists entirely of a never-ending sequence of exciting violence in the air, land and sea. While Daniel Craig's debut as the British agent in
Casino Royale
was well-regarded, the agent is now more than a musculed projectile hurting forwards through different exotic locales than a crafty secret agent. In the pages of
Playboy
, Craig speculates on Bond's development into an inhuman automaton.Like most people, we have fond memories of the old James Bond. This Bond is not your mother's Bond, however, and he's probably not even your slightly older sister's Bond. Critics have described the new Bond as
a more built
Jason Bourne, and while that's not going to hurt box office, it certainly constitutes a different bond than the suave, charming Sean Connery and Roger Moore. From Daniel Craig's interview in this month's
Playboy
we learn the blame for the new, silent Bond falls on another powerful secret agent. When Craig is asked why Ian Fleming's hilarious double entendres have disappeared, he names the villain:
Craig: Now, a pun's a bad joke. In fact, in this movie we had to be careful of them. They've been sent up in such a way that they almost ring like parody. Austin Powers did them in the extreme. So making a Bond movie, you have to keep that in mind. As soon as you go that way you're making a parody of a parody. It looks like you're doing Mike Myers. Playboy: Were you cautious of doing Austin Powers? Craig: Especially when I made the first movie, yes. I had an Austin Powers alarm. On set I'd say, "That's Austin Powers. We can't do it." Playboy: What set off the Austin Powers alarm? Craig: There is a chase sequence in the beginning of Casino Royale. I run through a room past 10 workers who are sawing planks. These guys had to look as though they were working; they couldn't just look like guys banging nails. There is an explosion, and they look up. We had to go back to the choreography and make it look real, because at first it looked like Austin Powers.
So James Bond nostalgia '99 killed James Bond nostalgia '08. Groovy.