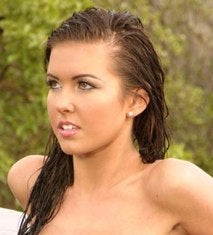 Civil war is stirring near Audrina Patridge's plush new Hollywood Dell redoubt, where the MTV crews following her every supple, dignified move has drawn outrage from neighbors insisting that the city regulate nearby shooting shooting on
The Hills
. And after hearing the residents' appeal, the Los Angeles film office has in fact
interceded
to bring you less Audrina from the comfort of her own home — marking a small victory for a tormented community under siege, and possibly marking the West Coast front in America's burgeoning
Hills
defensive.According to E!, the new permit lasts 30 days and allows for local filming only once per week, and never on weekends. An unnamed Patridge foe cites narrow streets and fire hazards worsened by MTV vehicles, but a member of the underground army known as the Hollywood Dell Civic Association issued a more pointed opposition today:
The thing is the paparazzi, which was the problem on Orange Grove [where Conrad lives]. ... As I understand it, the issue was the paparazzi hanging around, throwing their garbage, throwing lit cigarettes, being belligerent, and this would have an impact on the quality of life in our neighborhood. And of course the looky-loos, you know, the kids that want to come up and check out her house leads to problems."
Viva la resistance!
Gen. David Letterman
would be
so, so proud
.