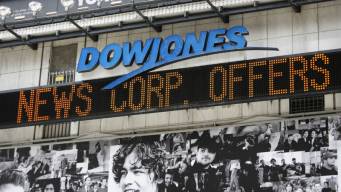 Everybody in the media fucks up once in a while. Sometimes the fallout is bad. Remember when Bloomberg accidentally ran Steve Jobs' obituary while he was still alive? Then shortly afterward they mistakenly ran an old headline about United's bankruptcy as if it was current, and temporarily destroyed the company's stock price? Both are very bad errors, but at least Bloomberg apologized for them. Which is more than you can say for Dow Jones, which handily fails to mention its own mistake that crushed GE's stock price yesterday: With 15 minutes left in the trading day yesterday, Dow Jones ran a mistaken report that (almost singlehandedly) erased the day's gains in the DJ Industrial Average:
General Electric's stock fell 4 percent in the last minutes of trading, only to end down 1.5 percent at $19.20. Dow Jones reported that General Electric's Chief Executive Jeffrey Immelt said GE aims at keeping 2009 profits at the same level as this year, even if revenue drops 10 percent to 15 percent. But after the closing bell, Dow Jones corrected their story, saying that GE Chief Executive Jeff Immelt had not forecast 2009 profit to be flat. The news service said Immelt had been speaking hypothetically when he told a business group in Spain that he would ask his managers to maintain profits even if revenues at their businesses fell as much as 10 percent to 15 percent.
That's from Reuters, and there are plenty of other reports in
dozens of other outlets
about this major reporting screwup. So, what does the
Wall Street Journal
—the flagship paper of Dow Jones—
have to say
this morning about yesterday's late selloff in the market?
The Dow Jones Industrial Average finished down 74.16 points, or 0.8%, at 8990.96. It was up more than 290 points and down nearly 175 points within the last 15 minutes of trading. General Electric was a catalyst in the late-day swoon, finishing down 1.5%. The late-day market selloff reflected a "sell the rallies" mentality in the stock market, said Todd Steinberg, head of equities and derivatives for the Americas at BNP Paribas. After Tuesday's rally and gains Wednesday afternoon, "stocks got back up to levels where people were comfortable selling," he said.
We'll translate that: Nothing! The WSJ had nothing to say about how its own company's fuckup led to this rapid selloff of GE "in the late day swoon." And that's how you try to sweep an error under the rug, unsuccessfully.