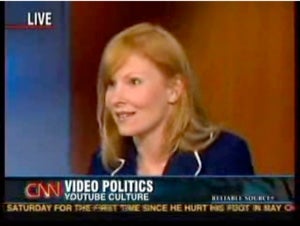 Ana Marie Cox, the original
Wonkette
blogger, left our cozy Gawker family two years ago for a big gig with
Time
. A regular on TV and in wonky political magazines I don't read, Cox has been
blogging for Time
from John McCain's plane. But now Ana Marie is in trouble: Turns out her $1,000-a-day expenses on McCain's plane weren't fully covered by
Time
. Cox was making ends meet with paychecks from
Radar
, a pseudoinfluential New York magazine.
Radar
goes out of business every couple of years to stay trendy. Last week, the mag dutifully shut down for a third time. Cox, despite a "mid-six-figures" book deal in the works, was reduced to
pleading for donations
on her personal blog. There's a big lesson here, and I think it's: Owen, I want my travel paid in advance.