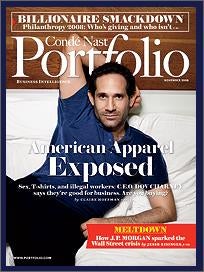 The
5% across-the-board cuts
at Conde Nast are already manifesting themselves.
Men's Vogue
has been officially scaled back to a twice-a-year publication—meaning that it's folding, in the sense of being a regular (almost) monthly magazine. Tipsters tell us that the MV staff is getting laid off, although Conde's own
statement
uses the vague phrasing, "
Men's Vogue
will be absorbed into
Vogue
," leaving open the possibility of some staff retention (MV editor Jay Fielden is staying on). And
All Things D reports
that the entire staff of Conde's troubled business title
Portfolio
has been summoned into a meeting that's going on right now. Ominous. Anyone with specific info on layoffs,
email us
. [UPDATE: Portfolio has indeed
suffered a serious cutback
, along with
layoffs
]: The bad news at the meeting:
Portfolio
is going to be published ten times per year, rather than 12. The December and January issues
will be combined,
as well as the June and July issues. Alley Insider says that Porfolio's web staff is being cut
from twenty employees to five
. More layoffs may be coming. The magazine has a lot of high-profile, highly-paid journalists on its staff—and now, one-sixth less space to publish their stories.