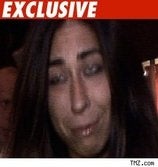 Terry Semel, the former Warner Bros. chief who used to run Yahoo, can't catch a break from wild-child daughter Courtenay, who continues to embarrass him. The latest,
via celebrity blog TMZ
: Testimony from a court case about an incident last August where Courtenay — who's now dating MySpace hottie Tila Tequila — got handcuffed after swearing at Jaroslaw Jarczok, a security guard at Pure, a Las Vegas nightclub. The line that did her in: "Do you even know who I am, f**king idiot?...Google me, you dumb f**k." You would think, if she had any respect for Daddy whatsoever, she'd have told Jarczok to search for her name on Yahoo.