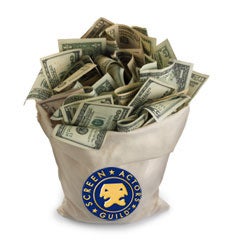 Frankly, we like your odds of being one of the 66,000 people to whom the Screen Actors Guild
owes some $25 million in unpaid residuals
— members, heirs of members, and even non-members whose fluke payments have trickled into SAG over the last 20 years. As
noted here last month
, the union has kept money belonging to actors (Michael Douglas, Mick Jagger), politicians (John F. Kennedy, Michael Dukakis) and other luminaries who've relocated, died or both since SAG was last in touch with them or their families — and now it's going public with the tactful "Get Your Money" sweepstakes. And you could be the next winner!All you have to do is be Peter Gabriel. Or Patrick Dempsey. Or RuPaul. Or the Harlem Globetrotters. Or related to Roy Rogers, Katherine Hepburn, Fred Gwynne or any one of thousands of others with residuals, royalties and other cash having stacked up at SAG HQ. After Sharon Waxman
broke the story
in September, the union scrambled on the defensive to explain how even former president Charlton Heston or current board member Eric Bogosian could have unclaimed coin; it has since launched the "Get Your Money" ad campaign to help square up with Hollywood:
"Some residuals checks belong to nonmembers or one-time actors, many of whom aren't even aware that they have residuals coming to them," the ad said. "In an effort to reduce this surplus, the finance committee is embarking on a marketing campaign to get the word out to possible residuals recipients." The ad includes instructions on how to access unclaimed residuals information on the Screen Actors Guild website.
That information is
accessible by members only
; survivors of Clark Gable, Bob Fosse, Nina Simone may be better served to just dial SAG's office at (323) 954-1600. Remember our cut if/when the check comes!