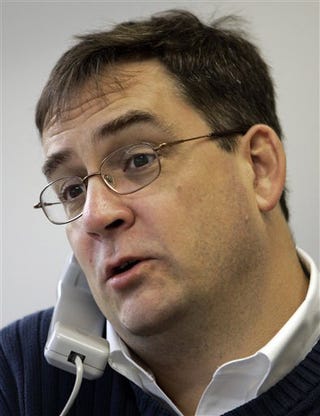 This is the layoff that matters. Motorola has already conceded to a demand by investment overlord Carl Icahn to spin off its money-losing mobile phone unit. Today's news is no surprise, but still: Motorola will ditch about 3,000 people through several agonizing waves of layoffs. Co-CEO Greg Brown is
telling the press
that Moto will save $800 million in 2009. In a conference call today, Brown's peer Sanjay Jha said Moto had been too focused on "bright, shiny objects." Now, the company will focus on dim, dull profits.
Update:
AP's photo library actually gave us a photo of
another Greg Brown altogether
, taken for a story on voicemail etiquette. Having looked at all of the corporate headshots of Motorola's Brown, we're sticking with this guy — he'd probably do a better job running Motorola, too.
(Photo by AP/Alan Diaz)