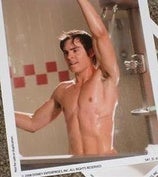 Never in our wildest dreams did we think our Halloween gift to you—the
Do-It-Yourself Grazerhead mask
—would become the runaway success that it did, with literally tens of thousands of the Officially Sanctioned Headshots™ swarming the streets of L.A. Friday night, each accompanied by their very own candy-appraisal attaché. (Grazerhead: "What do we think about Nerds?" Attaché: "We like them.") We urge you to send in your Night of the Living Grazerheads Photos; in the meantime, unwrap some box office numbers from your premium candy pile:1.
High School Musical 3
- $15.035 million Every sweeping social movement in this country's history came with its own stirring soundtrack, from "Yankee Doodle" to "Amazing Grace" to Joan Baez singing "We Shall Overcome" to a field of rain-soaked Woodstock participants. And as we too now stand at the crossroads of hope and progress, we can think of no better accompaniment than East High's eunuch basketball team singing "Now or Never." The times, they are indeed a-changin'. 2.
Zack and Miri Make a Porno
- $10.682 million As
we predicted
, the Seth Rogen comedy fell about $4 million shy of the
HSM
kids. (Who, it should be pointed out, had already explored that topic
well over a year ago
, when tweens still found the DIY-porn-thing cool.) The blame-flinging begins momentarily, in a heated phone exchange between Harvey Weinstein and Kevin Smith, the beleaguered Weinstein Company head shouting, "You just HAD to tell
the toilet story
, didn't you? Because when people want to forget their problems for a few hours with a laugh and perhaps a glimpse of some Elizabeth Banks skin, what they're really crying out for is the image of you taking a dump and shards of porcelain suddenly flying off in all directions. Bravo, Kevin. Bravo. No really. Well played, my friend," before mumbling a "Jesus Christ," and hanging up in disgust. 3.
Saw V
- $10.11 million We're torn. On the one hand, we're thrilled to have
Jigsaw and his little tricycle-riding puppet Billy
come out against Prop 8. On the other hand, did they really have to rig the voting booths so that a bear trap clamps down on your head if you press "Yes?" Enh, why not. 4.
Changeling
- $9.407 million Clint Eastwood's latest earned an average $5,085 per screen—more than any other movie in the top ten—meaning that at least a few people might have understood why you were rollerskating around Santa Monica Blvd. Friday night with some
brown Cabbage Patch Dolls, a 1920s hat, red lipstick
, and not much else. Everyone else just figured you were another naked freak at the parade. Either way, however, you're bound to see yourself in
Frontiers
magazine next week. Congrats! 5.
The Haunting of Molly Hartley
- $6.009 million Chace Crawford's leap to the big screen is looking to be one of this year's big Razzie frontrunners, earning a solid
00% on Rotten Tomatoes
. The movie's hormonal fanbase, however—while feeling it "dragged in spots" and could have "been scarier,"—strongly felt that the star's own performance was, "AAAAAAAAAAAAAAAAAAAAAAAAAAAH CHACE I WANT TO HAVE YOUR BABIES AHHHHHHHHHHH!!!!!!!!" Distributor Freestyle is hoping that could translate to robuts home video sales.