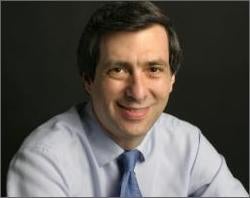 Let's check in with famous and successful media critic Howard Kurtz of the Washington Post. What is Mr. Kurtz writing about today? The Monday after John McCain's much-discussed appearance on Saturday Night Live , his second of the general election campaign and coming just weeks after his running mate Sarah Palin's well-publicized cameo, Kurtz's column is, of course, about how Obama is on TV all the time , and all the television talk shows are In The Tank for Barack Obama.
But daytime and late-night shows have been an underrated factor in this campaign, and an undeniable advantage for Obama. Ellen DeGeneres, David Letterman and panelists on "The View" all confronted McCain, while Obama has basically joked and danced his way through such appearances, including a "Daily Show" stint last week in which Jon Stewart asked him about "the whole socialism/Marxist thing." If anyone doubts there is a liberal entertainment establishment, it has been vividly on display.
Yes, that is right. John McCain, who barbecued with Rachel Ray and did Leno and Letterman and who campaigned with
The View's
Elisabeth Hasselbeck, is a victim of the liberal entertainment establishment. Poor Senator John McCain, who held the record for most
Daily Show
appearances ever, was victimized by mean questions on the talk shows
he kept appearing on, over and over again,
while Obama just shucked and jived—sorry, "joked and danced"—his way to victory, thanks to the liberal bias of Ellen, who was mean to John because he wants to make her marriage illegal. On the day in which the story was McCain's media appearances, in a campaign that has hinged on those appearances before (he got grilled by Letterman because he ditched Letterman, remember), of course Howard is talking about how Obama got it easy on
The View
and McCain didn't (except for the first time he did
The View
, when he did get it easy). And oh, he was obviously not challenged on Leno, because Leno never challenges anyone. But Ellen and Joy Behar and Dave were mean to John McCain, so the world is unfair. (This is followed by an item about how there is a double standard because Sarah Palin is accused of hiding from the press even though recently she sat down with Brian Williams, Elizabeth Vargas, Jill Zuckman, and, snort, Sean Hannity [near-daily!]. She's also sat down with her traveling press corps "on several occasions." But mean Joe Biden is "hiding" from the press because he's only on tv
multiple times every day,
having done 211 interviews with local outlets, morning shows, the
New York Times
, and CBS, but not his traveling press corps. How is this a double standard? Well, there's a question mark in Kurtz's subhead so maybe he meant it's
not
a double standard, because to declare one when the evidence suggests an apparent single standard would of course be merely parroting a misleading GOP talking point and fair old Howard Kurtz would never do
that.
)