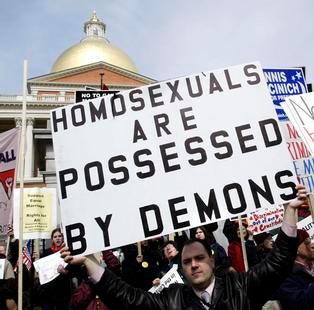 We know it's too soon to bring you all down, because last night was indeed an inspiring and amazing night and John Lewis was so so so great to see and wow, it was just, man. But! Other things went down in the great nation of ours too! We began looking at the
Ballot Initiative fights
, last night. But then we got drunk and went to bed. So let's check in on how the gays are doing, this morning, in Barack Obama's hopeful New America. Out in California, Proposition 8, the ballot initiative to ban all the wonderful, tear-jerking gay marriages that ruined all the straight marriages out there, is narrowly ahead in the polls. With 95% of precincts reporting, the ban is holding up 52% to 48%. :( California's Proposition 5, the one that would mandate lax penalities for all non-violent drug-related crimes, lost 59.8% to 40.2%. The only good news out of California is that Prop 4, the abortion notification initiative, looks to be failing. Arizona's Proposition 102, the gay marriage amendment,
passed handily.
Fuck Arizona. Florida's terribly worded gay marriage ban passed too! With the
necessary 60% and everything!
This amendment also fucks over every non-married cohabitatng couple as well, and seems to even outlaw civil unions. Sorry, gays, no hospital visits for you! Similar great news for bigoted morons in Arkansas, where the measure forbidding gays and
ummarried people
from adopting or fostering children
passed with flying colors.
They did also vote to remove the outdated language in their constitution banning "idiots and insane persons" from voting, though they didn't replace it with language banning Arkansas from voting. (J/k, democracy's a wonderful thing, whatever.) Michigan
legalized medical marijuana
, Colorado and South Dakota's abortion bans failed, and Massachusetts' marijuana decriminalization passed.