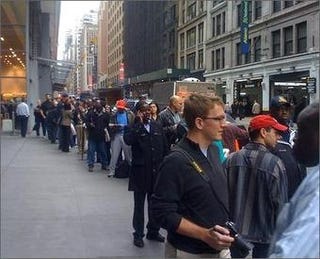 We all know that print is dead and so forth but, darn it, nobody can deny that today is a great day to be a
newspaper
. Everybody wants a souvenir of Obama's victory, and you know what makes a great souvenir? That's right, a newspaper. This is a
photo
of a line outside the NYT building on 40th Street of people waiting—for a newspaper! Incredible. Reports of news stands from Brooklyn to Manhattan actually
selling out
are flooding into Gawker HQ!:
Who says print is dead? There are no NY Times available in the West Village this a.m. - earlier I walked from Houston to 14th St., weaving around to all newsstands. Same story at every one - "sold out." WTF? Do I have to go above 14th St. to buy this historic edition?
The
Times
cover today was striking. Props to them. The
Washington Post
is actually
printing an 'EXTRA,'
which is just awesome. And people are even
lining up to buy
today's historic issue of the
Chicago Tribune
! There hasn't been this much excitement since ruffians crowded around the newsboys for word of the outcome of the Sullivan- Kilrain bout of 1889! Extry, extry, Irishman John J. triumphs in 75th round! Obama wins! Get yer history, yea!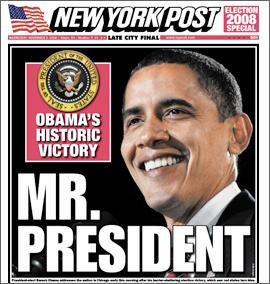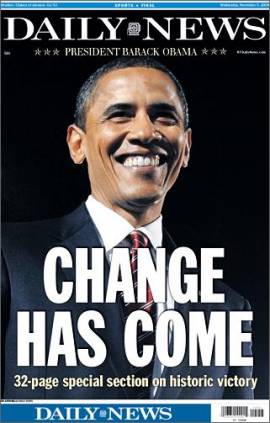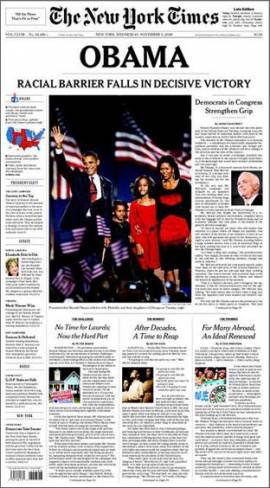 [ Pic via
nedward.org's Flick
r]