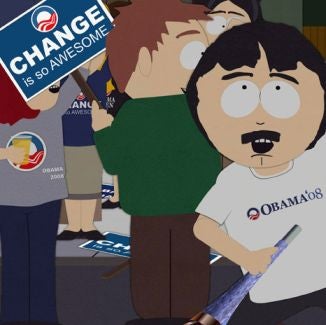 As the likelihood of Obama becoming president became larger and larger over the last few months, critics wondered openly how comedians would find things to lampoon about our new president. Maureen Dowd chronicled the concern she had for comedians in a column and even Obama himself wasn't terribly impressed by Fred Armisen's SNL portrayal . Following in the footsteps of Pareene's helpful guide to the subject, tonight's episode of South Park is titled "About Last Night…", and will portray Barack Obama's early arrival at the White House. From the early preview, and how the show has depicted the commander-in-chief in the past, it looks like overzealous Obama supporters will bear the brunt of the joke.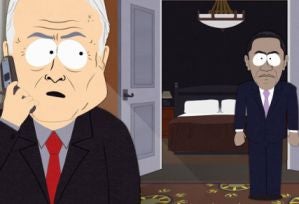 The episode tonight will focus on the tempest surrounding our new president:
While the country celebrates the outcome of the election, the new President-elect catches everyone off guard when he arrives at the White House prematurely… and the citizens of South Park are partying in the streets. From the Oval Office, the new Commander-In-Chief assembles his team and prepares for the job ahead.
The writers were apparently ready to sub in McCain had the impossible occurred, so that may mean Obama is merely a pawn in "About Last Night..." The dull teaser hides whatever joke is coming:
Click to view
Of course, this isn't the first time Trey Parker and company have brought their stoned brand of satire to the political scene, even when the target in question didn't lend itself easily to jokes. That's not the case for former Vice President Al Gore, whose passion for global warming has run up frequently against the show's ridicule of the same. The lisping, friendless version of a disgraced Gore's obsession with 'ManBearPig' made a successful comedic leap:
Click to view
Trey has never been too keen on making fun of the Clintons, but in an episode titled "The Snuke" he focused on the one irrefutable fact about the former First Lady: she has a vagina. Here the laughs aren't necessarily at any particular aspect of Hillary: the episode is both an entertaining parody of
24
and a realistic depiction of what would happen if a terrorist device were in Hillary's vagina.
Click to view
In order to hold onto their place in
the center
of the television political spectrum, Trey has generally focused on cultural issues themselves rather than parodying our leaders, but they couldn't resist poking fun at 9/11 conspiracy theorists. Trey had focused his satire of the Bushies the short-lived live action series
That's My Bush!
, but he was at his funniest on his flagship show when his Bush insisted on taking credit for 9/11, even faking a murder in the process.
Click to view
Then there's that chief executive who dueled with Cartman in a blistering parody of...how we caricature our villains? I'm still not really sure what this was about:
Click to view