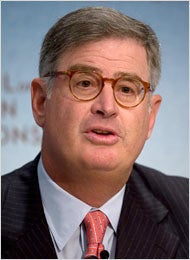 The world's biggest IT services firm fed the
New York Times
a copy of a speech CEO Sam Palmisano was scheduled to make today in front of the Council of Foreign Relations in New York City. Sam's proposal is blatant: "
A technology-fueled economic recovery plan
that calls for public and private investment in more efficient systems for utility grids, traffic management, food distribution, water conservation and health care." Also, free Zipcars for gossip bloggers.