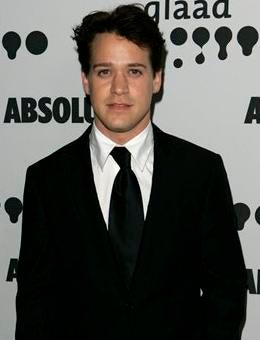 T.R. Knight was the first high-profile gay star to contribute to the "No on Prop. 8" cause, and he didn't simply stop there. The Advocate has just published a first-person piece by the actor in which he recounts the sometimes-stormy volunteering he did outside a polling place on Election Day. While holding up signs, Knight was met with a steady stream of Isaiah Washington-style invective, and he details the culprits:
The man who screamed "Homos and lesbians!" as he drove by, the older man who shouted at me to go back to West Hollywood (I live in Los Feliz), the woman who called us "abominations," the man who spat on the palm card we had handed him. There was a man who attacked a young female volunteer of ours at a nearby polling place at a Catholic church, shoving and pushing her and ripping up her palm cards. Every single supporter of Prop. 8 was so filled with anger and bile as they voiced their "support" to us, with the exception of one older gentleman, who engaged us in a very civil conversation. One person in over 13 hours. ...I know that gay people will one day gain all the rights due us as American citizens. I know that the people who stand in our way today will be the people the majority will later mock as foolish and bigoted. I was speaking to an African-American friend tonight. She told me, "It takes so long. But people will come around. You have to continue to fight. It just takes a very long time."
As gay denizens of Los Feliz ourselves, we can sympathize with the vicious insult of being asked to "go back to West Hollywood" (shudder). Still, though Knight has certainly done his fair share of activism, maybe he could start closer to home next time. We hear there might be a
gaywashing
over at Seattle Grace that could use his attention...
[Photo Credit: AP]