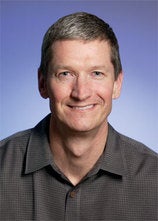 Some days it seems like Steve Jobs will be CEO of Apple until he dies. But after a bout with pancreatic cancer and a health scare earlier this year, peope are starting the grieving process earlier. Part of that involves playing a guessing game about who will take his place.
Fortune
convincingly argues that Apple COO Tim Cook
is the only real candidate
.Cook is paid more than anyone else at Apple, and he's the only executive allowed an outside board seat (Cook is a director at Nike). More importantly, he's humble enough not to push for a CEO job that can never be his as long as Jobs is in the saddle. True, Cook is an operations expert, not a product genius like Jobs, but he could surround himself with Apple executives like Scott Forstall and Jonathan Ive to make up for that lack. Only one wild card: Mark Papermaster, the IBM chip executive whose recruitment by Apple has
embroiled the companies in a lawsuit
. if the hire goes through, Papermaster will report to Jobs, not Cook.