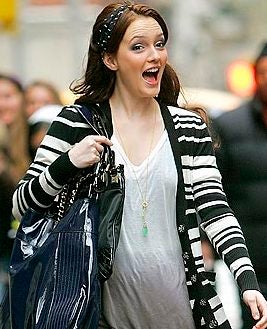 Leighton Meester versus Wallace Shawn happens for free on the CW tomorrow night, and that's the highlight of the week. Yes, the industry is missing an 'it' show right now, that universally watched show that defines a period in American life. Soon the current programming will be filed under Bush-era nonsense, and we'll be able to get a new
Sopranos
, the kind of show born in the Clinton era. Still, there's quality programming if you just know where to look. Here's what to watch this week:All times Eastern, watcher beware...
Tonight:
Dexter
(9 pm on Showtime): Miguel Prado's wife gets a little suspicious of the blood technician that her district attorney husband is spending a lot of time with.
True Blood
(9 pm on HBO): Sookie's disturbing revelation about her employer freaks her out. A lot of vampire blood is used (probably).
Family Guy
(9 pm on FOX): Have you not already seen the Hulu clip from the new dog storyline? They went there:
Entourage
(10 pm on HBO): The show has finally gotten to the point where it is doing an entire Seth Green themed episode.
Californication
(10 pm on Showtime): David Duchovny's character loses his virginity all over again, this time to a hot teacher.
Monday:
Gossip Girl
(8 pm on the CW): We already mentioned Wallace Shawn, but Jenny will move in with Agnes and they'll probably be in bras the whole time. The ep is called "Bonfire of the Vanity."
How I Met Your Mother
(8 pm on CBS): Big news for Alyson Hannigan's character, but all we can think about is that Josh Radnor will
spend
the rest of his life ALONE.
Heroes
(9 pm on NBC): Can the showrunner from
Pushing Daisies
save the troubled Tim Kring superhero saga? They should just start including the backstage storylines into the episodes, as I find the backstage part easier to keep track of.
Tuesday
:
House
(8 pm on FOX): The show's most improbable storyline continues, and Chase and Cameron turn this into
Days of Our Lives
all of a sudden.
The Mentalist
(9 pm on CBS): Simon Baker's psychic is in a casino this week, which should mean plenty of wordy insight about the the meaning of luck.
Dancing With the Stars
(8-10 pm on ABC): Two hours of programming, and it cost less than the person who does Simon Baker's eyebrows.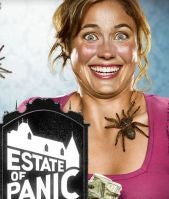 Wednesday
:
Estate of Panic
(10 pm on Sci Fi Channel): It's not often that reality shows violate my inborn moral sense, but scaring the hell out of people is just plain wrong.
South Park
(10 pm on Comedy Central): After last week's Obama-
Ocean's 11
coming together
, can this show stay on the funny end of the political spectrum?
Thursday
:
Jets vs. Patriots
(8 pm on NFL Network): Bill Belichick and Eric Mangini resolve to be bff again.
World Series of Poker Final Table
(9 pm on ESPN): They're playing it right now, but if you avoid spoilers, you can watch it live all over again.
The Office
(9 pm on NBC): Michael gets sent on a business trip to Canada, and brings along Andy and Oscar. Meanwhile, does Pam have a decision to make? Aah!
30 Rock
(9:30 pm on NBC): Last week was Oprah, this time it's Jennifer Aniston. Aniston plays a friend of Liz's who visits the show. If you don't want to cry because you're sad for her afterwards, then it wasn't a Jennifer Aniston cameo.
Friday:
The Wizard of Oz
(8 pm on TNT and TBS) Perhaps someone can fill us in on the reason both nets will be showing this on Friday night. But hey, I guess they don't really need a reason: