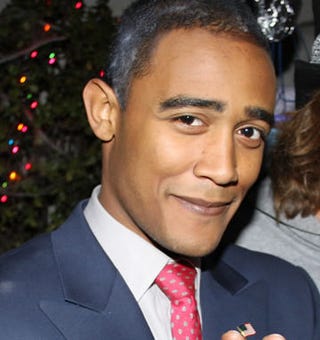 On some level we knew there'd be Obama impersonators, but we thought they would be more like the tiny Japanese guy who impersonates Obama, or Fred Armisen's bland but comforting impression, or
Jordan Carlos
. But now someone has taken up as our presidential-elect, and is roving around L.A. with bodyguards. Close your windows and doors, and put your daughters in underground shelters. This is not The One. He is a false One. But who is he?L.A. blogger YasmiNYC
claims this grotesque effigy to The One is a Hollywood local
, and she reports his growing popularity is a gruesome sight:
Our first encounter was when he showed up at Birds on Halloween night flanked by 4 bodyguards and a guy in a cowboy hat. He received an immense reception at the bar and was put behind the bar to hand out 'change'…in otherwise cough syrup tasting shots. The second encounter was on Election night at Birds (I spend alot of time there just because the location is so convenient). He was eating dinner inside again, flanked by bodyguards. What I do know about this guy even though I've never met him, but was confirmed with him by a friend: he's an actor.
WHOA! False alarm. Crisis averted. He's an actor. Call off the dogs. The original photo is believed to have originated
here
.
An Alt Obama
[Hipster Runoff]