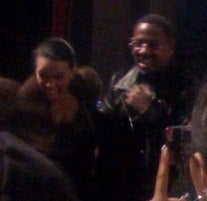 Hollywood PrivacyWatch
: 11/9 — Right before showtime at the Bobby Brown, Johnny Gill and Ralph Tresvant show at the Greek,
MARTIN LAWRENCE
and his date walked in with an entourage of people. He had some diamond-encrusted eyeglasses that look like they cost more than my car.
MO'NIQUE
was there really early with a guy and two women, and they were eating chicken tenders and fries. She was really nice to everyone who came up to her, even saying, "I love you, too" to the old man across the way who told her "I love you" and then kept flipping her off. She laughed. [
Hollywood PrivacyWatch is written by and for Defamer readers; send your sightings to tips@defamer.com.
]