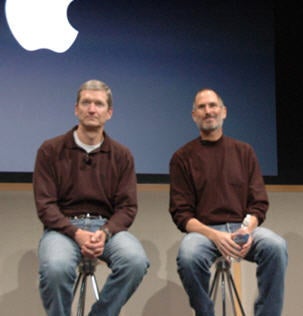 Tim Cook, Steve Jobs's second-in-command,
may be up for the top job at Apple
should anything happen to the company's iconic founder. Indeed, he's already subbed in once when Jobs was recuperating from surgery to treat pancreatic cancer. But who is this guy? Even
Fortune's
in-depth profile gives few clues: Cook, 48, is a Southerner who's "intensely private," a "fitness nut," and a "lifelong bachelor" who rents a house in Palo Alto. Outside interests? "When he isn't working he tends to be in the gym, on a hiking trail, or riding his bike." Come on. What is this — a
Fortune
profile, or a men-seeking-men personals ad in Craigslist?Gina Gloski, a classmate of Cook's at Auburn University, told
Fortune
, "He just never seemed that interested in other people. I'm a hugger and a kisser, but I'd never feel comfortable giving Tim a hug or a kiss." A Republican when he worked for IBM, he donated money to Barack Obama's campaign. We dislike stereotypes as much as the next guy. But an intensely private bachelor in his 40s, with a Southern background? We'd be remiss in our duties as a gossip if we didn't wonder if Cook was gay. Not that there's anything wrong with that: Apple recently donated $100,000 to the unsuccessful effort to defeat Proposition 8, California's ban on gay marriage.
(Photo via ZDNet)