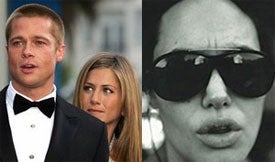 As if slow-motion footage of
filmdom's most adorable puppy
wasn't enough to make you race to see Jennifer Aniston's holiday movie season entry
Marley & Me
, the star has Phase 2 of the film's heart-tugging marketing campaign set to launch any day now. And we hear it's a good one, too, with new promotional partner
Vogue
signing on for Aniston's first public thwacking of husband-stealing Angelina Jolie.The
Daily Mail
reports
that
Vogue
's December issue features cover girl Aniston posing along with the quote, "What Angelina did was very uncool" — one of the decade's more reserved understatements, no doubt, coming almost four years after
Jolie's trysts
with her
Mr. and Mrs. Smith
co-star Brad Pitt led to his and Aniston's divorce. The rest is
clan-breeding
,
burger-photographing
history, but an insider says
Vogue
will do what it can next month to restore Aniston's pride:
The source added: "This certainly raises the bar on celebrity profiles. Jennifer opens up about her sex life, her career, and her feelings about life after her divorce. She must have had a lot on her mind, because she lets go on everything." MailOnline has learned that Miss Aniston's new Vogue appearance features the actress posing in erotic designer swimsuits and bearing her toned body on the sun-kissed beaches of Malibu. "This thoroughly re-establishes her credibility as a sex symbol," the source went on, adding: "Her body has never looked tighter or more fit."
Good for her! The issue should spark a run on newsstands when it arrives on shelves this week, but that will be nothing compared to the clever
Marley & Me
"Pretty Fucking Unhappy Meal" tie-in at McDonald's, which Fox expects to court the key jilted-ex demo that can give this holiday classic —and its heroic star — the legs its deserves.