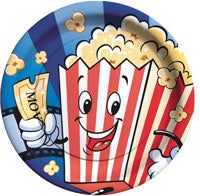 · In what
THR
dubs a "Rasinet recession," candy counter sales are dwindling, as families in these rough economic times are opting to meet their mortgage payments instead of investing in a
tub of popcorn
large enough to later turn into a cardboard shelter. [
THR
] · The Weinsteins have come on board to produce the movie of Pulitzer and Tony-winning play
August: Osage County
, which we saw this summer and can honestly say lives up to the hype. Weinstein says he has "already received calls from reps of interested actresses who've seen the play." Here's your cast: Judi Dench, Holly Hunter, Meryl Streep, Mary-Louise Parker. Bam. Back on the Oscars express. [
Variety
] · "Since I'm really curious about the world, what better place for [my partner Tom Leonardis] and me to exercise this interest than at Discovery?" said the
delightfully gay-rights-incurious
Whoopi Goldberg of her Discovery Emerging Networks deal. [
Variety
]
After the jump: What lesbianwashing network is now playing God with its schedule?
· CBS's Monday night comedy block won the night, including a series-best for
The Big Bang Theory
, which we're glad to know is 10.0 million people's dirty little secret as well. [
Variety
] · ABC is futzing with its schedule, putting
Private Practice
after
Grey's Anatomy
, and
Life on Mars
after
Lost
, in what they'll multi-platform promote as their new, "Let's Hope You Stick Around For Suckier TV Night in America!" campaign.