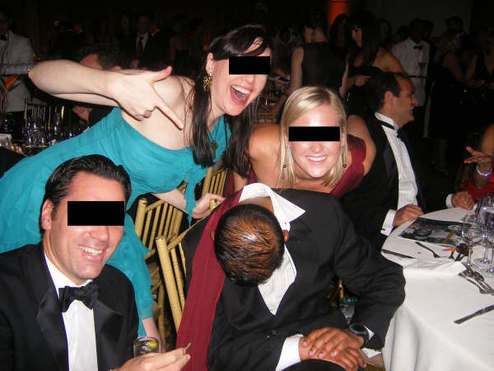 Infamous sweaty, drinky media party crasher Priyantha Silva is still going—we've been covering his exploits since 2006 . We received several sightings of the editor-impersonating, tax-evading Casanova-striver last month, which dovetailed nicely with his past threats of threatening to "ruin" and kill reporters who dared to mention his antics. Then, I saw him at an art auction last week, and pondered approaching him just to see what might happen. We made eye contact, but I decided, "You know what, I just can't deal with this kind of shit right now." And now, we've got yet another classic sighting from a lady—he loves the ladies—plus drunk pics from a black-tie event at Cipriani!
Spotted: One of New York's boldest and sweatiest party crashers, Priyantha Silva, was seen in action (or, rather, inactive) on Friday night, slumped over and passed out in a chair at a sold-out charity ball at Cipriani Wall Street.

I met him once a few years ago when he accosted me and a friend at a Jade Jagger/Yoo party and gave us his whole close-talking, name-dropping, rapid-fire spiel about being a "film producer," and flashing some no-doubt bogus laminated pass from the Cannes Film Festival. Shortly thereafter I read about his notorious party crashing exploits and magazine editor impostor act—not to mention his alleged criminal record—and I was quite disturbed that I stupidly had given him my business card when he had demanded it … months later I received a Valentine's Day e-card from him!

But on Friday when I spotted him sitting at a table right behind me, I wasn't sure it was him because: A) He was all slumped over and at first I couldn't see his face. B) It wasn't the magazine/celeb/media type of event he usually talks his way into—it was a black-tie, sit-down dinner dance and charity auction, and C) He was in a tux! (instead of one his usual garish shirts). I asked the people at his table if he was with them and they said they had no idea who he was, but then got a chuckle when informed that the guy snoozing at their table is a rabid interloper.

Could it be that Silva has finagled a penguin suit and moved on to posh, black-tie events because he's exhausted his magazine editor routine for being too recognizable in that world, or because there are so few magazine parties to crash these days? Watch out Upper East Side benefit circuit!
Yes. Watch out!