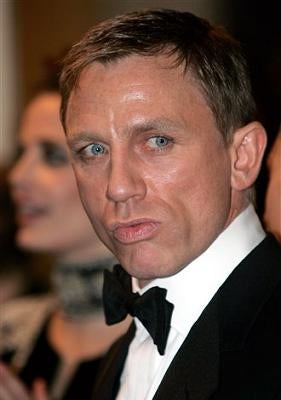 Now that Daniel Craig's second turn as James Bond has been threatened by critics , the Communist party , and a diaper-craving Paul Haggis , it almost seems unfair to keep piling on. However, nobody's told 81-year-old Roger Moore to hold his tongue, and the former 007 (perhaps peeved that his general standing as "second-best Bond" is in danger of being usurped by Craig) has weighed in with his thoughts on the franchise's direction to Britain's Daily Mail :
'I am happy to have done [the series], but I'm sad that it has turned so violent,' Moore says. 'That's keeping up with the times, it's what cinema-goers seem to want and it's proved by the box-office figures,' Moore said in an interview about his memoir, My Word is My Bond. ...While making The Man With the Golden Gun, director Guy Hamilton wanted Bond to be tougher and had him threaten to break Maud Adams' character's arm to get information, he writes. 'I suggested my Bond would have charmed the information out of her by bedding her first. My Bond was a lover and a giggler, but I went along with Guy,' the British actor wrote.
Though Haggis couldn't get the idea of a Bond baby past Daniel Craig, we would have loved to see him pitch a scene where 007 threatens a global supervillain not with a Walther PPK but with an unexpected, high-pitched giggle, eventually capping off
Quantum of Solace
with a nightgown-clad pillow fight at M's office (oh, the hair-braiding that would ensue!).
[Photo Credit: AP]