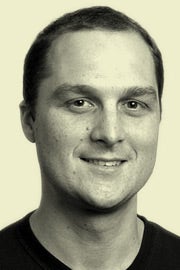 This will be hilarious: Self-obsessed videoblogger
Robert Scoble
, managing director of FastCompany.tv, has
a new boss — who's the same as my old one
.
Noah Robischon
is leaving his job as managing editor of Valleywag's publisher,
Gawker Media
, to run
Fast Company's
websites, which include Scoble's personal blog, Scobleizer.com.Everyone assumes Gawker Media publisher
Nick Denton
personally pulls the puppet strings at Valleywag, but since I was hired last year, I've reported to Robischon, a friend I've known since we were both at
Time
. Damn: This means Denton actually is personally pulling the puppet strings now, doesn't it?
I'm in so much trouble
. But not as much trouble as Scoble: "I'm excited to be getting back into day-to-day editorial, and building something new," Robischon writes. Translation: Scoble will have to start making sense.