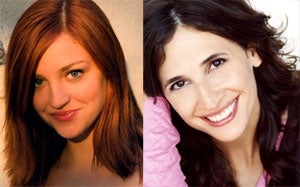 Though
MADtv
was
canceled
today, elder sketch comedy statesman
Saturday Night Live
is still flying high — so high, in fact, that they've finally gotten around to addressing that whole "lack of women" thing! Season breakout Tina Fey
wasn't actually a cast member this year
(and
won't be stopping by anymore
), while utility player Amy Poehler is on
Archibald-assisted leave
, bound for
Office
-related parts unknown. So what two Los Angelenos has Lorne Michaels brought on to take some of the weight off Kristen Wiig and Casey Wilson?First, we have 21-year-old
Abby Elliott
(above left), daughter of Chris Elliott (let's hope her tenure goes over better than her dad's brief, mid-90's
SNL
stint). Abby may be familiar to fans of UCB's Midnight Show, but we discovered her at Defamer
back in 2006
! Here's Abby playing a quavery-voiced Kirsten Dunst in the impression that won our hearts:
SNL's
other addition is
Michaela Watkins
, a Groundlings main company player who can
currently be seen
as the Hamish Linklater-romancing Lucy on
The New Adventures of Old Christine
. Kudos on the gig, ladies — though we're still surprised that there's no one being added to the cast who could conceivably play Michelle Obama (or even
Sheri Shepherd
!). We hope Maya Rudolph enjoys all those
JetBlue miles
she's bound to rack up.