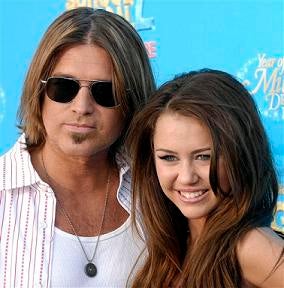 When it comes to satisfying their children's tween dreams, Barack and Michelle Obama have been fairly generous, arranging a Jonas Brothers meet-and-greet on the set of
Ellen
that found Joe practicing his
phone breakup techniques
on Malia and left Sasha, weirdly, with a
purity ring
on her left thumb. Still, there's one place that even the Obamas deem too frightening for their girls: the set of
Hannah Montana
! After Billy Ray Cyrus issued an invitation for the younger Obamas to make an appearance on the show that was greeted with a firm "Uh...," Miley's father attempted a
retraction
tinged with some unexpected advice:
"Oh, to tell you the truth now, this thing got a lot bigger, a lot quicker than I ever planned," Miley Cyrus' dad told reporters at the CMA Awards in Nashville Wednesday. "It's a double-edge sword for me because first of all, I have a great deal of respect for President-elect Obama," Cyrus said. "I just mentioned about them being on the show, and it snowballed." Cyrus says he isn't sure it was a good idea for Obama's daughters to be on TV, anyway. "As a daddy, I'll say to him what I say to any daddy, you may not want your daughter to get into show business," he warned.
Certainly, if the Obama girls came back from
Hannah Montana
emboldened enough to
eat their shirts
, date
underwear models
, and send scandalous texts (or crayon drawings, whichevs) to Beau Biden, Obama might regret letting them have their chance at Hollywood stardom. Still, the president-elect is said to be mulling over an offer from Scarlett Johansson to allow wife Michelle to co-star in her next film, though he is troubled by the lack of a script, faraway location (Siberia), and multi-year shooting schedule Johansson is claiming would be necessary. Anything for art, Barack!
[Photo Credit: AP]