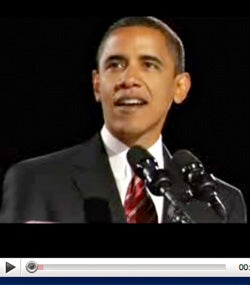 This week's Democratic Party weekly address by our audaciously hopeful President-elect will not be on boring old NPR.
Barack Obama's going to upload to YouTube
, reports the
Washington Post
. The WaPo says the Obama administration will also make "online Q&As and video interviews" part of its communications strategy. Think this is payback for Google CEO Eric Schmidt's
late-to-the-game Obama endorsement
?If so, it's scant reward for America's CTO. If transition co-chair Valerie Jarrett's
two-minute talk yesterday
is any indicator, most of these clips will be no more exciting than a White House press release. Obama himself, though, has one of the most awesome telepresences I've ever seen. Mr. President, get yourself a bulldog and a skateboard and you'll blow Avril Lavigne and Justin Laipply right off the Most Viewed (All Time) page.