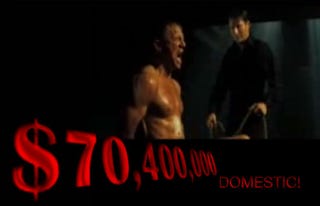 Take a short break from coughing up charred trailer siding to glance at the weekend numbers: 1.
Quantum of Solace
- $70.4 million Having the playing field all to itself couldn't have hurt the second installment of the Daniel Craig franchise reboot, and it didn't: The broodiest Bond yet earned $70.4 million on approximately 5,900 screens—the highest opening not just of any Bond film, but of any espionage drama in history. Today's trade ads boast
Solace
's hefty take with the agent screaming in agony as Le Chiffre takes a double-knotted rope to his fourth and fifth digits.2.
Madagascar: Escape 2 Africa
- $36.13 million David Schwimmer the Giraffe should enjoy his last hurrah before John Travolta the Spayed German Shepherd bolts in to steal his long-necked thunder. 3.
Role Models
- $11.71 million Paul Rudd's
SNL
hosting triumph only helped boost ticket sales for
Role Models
, bringing in a contingent of horny Ruddites hoping for an unpixelated glimpse of the goodies, and ended up laughing so hard their eyes bled. 4.
High School Musical 3: Senior Year
- $5.879 million If your one excuse for not seeing
HSM3
so far was the fact that it features neither Officer John McClane nor the phrase, "Yippee ki-yay, motherfucker!" well, then, you've just run out of excuses: 5.
Changeling
- $4.247 million If you haven't yet caught
The Changeling
, we highly recommend you do. Yes, it will require you overlook star Angelina Jolie's
well-documented uncoolness
for a couple of hours, but this could well be one the last performances from the actress before she
wanders off the Ghanaian sunset
three decades from now.