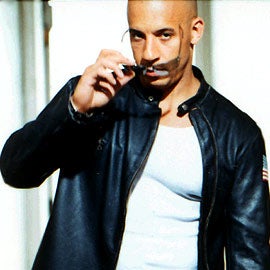 · Vin Diesel AbandonedFranchiseWatch:
XXX: The Return of Xander Cage
will reunite Vin Diesel with director Rob Cohen for another helping of the Xtreme actioner no one remembers or wants! [
Variety
] · Aaron Eckhart will head his first action movie in
Battle: Los Angeles
, playing a marine platoon leader fighting an alien invasion of our fair city. Don't use the rubber bullets, Aaron—it'll just be a P.R. disaster for your department when the footage winds up on the news. [
THR
] · Innovative Artists has "undergone the most significant overhaul in the agency's 26-year history." And what do these sweeping changes entail? Everyone gets a title! Watch out Hollywood: The Vice Associate Director of Scripted Reality Affairs is on line 1, and she sounds angry! [
THR
]
After the jump: Which on-the-cusp-of-It-boy-status actor is partaking of It Boy ritual, "one for them, one for me?"
·
Twilight
star Cam Gigandet and Jena Malone will star in indie drama
Five Star Day
, which
THR
celebrates by locating the two worst photos of these two actors ever taken. (Malone fares way worse.) [
THR
] · The SEC has a few questions for Mark Cuban, who sold 600,000 shares search engine Mamma.com Inc. after receiving a hot insider tip that allowed him to save $750,000 by dumping his stake in the company. Just for fun, we entered
"Mark Cuban Insider Trading" in Mamma
. Nothing much turned up. Whatchu hiding, Mamma? [
Variety
]