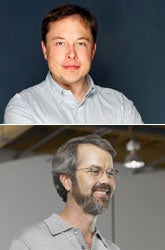 When visionaries clash, whose vision do we believe? On newsstands this week,
Newsweek's
Dan Lyons
savages Tesla Motors
, the electric-car maker. Tesla was once the brightest hope of Silicon Valley's clean-transportation industry; now on its fourth CEO in less than two years, it's better known for manufacturing boardroom drama than actual vehicles. Lyons writes that Tesla's Roadster is a "classic Silicon Valley product — it's late and over budget, has gone through loads of redesigns, still has bugs and, at $109,000, costs more than originally planned. Company founder Martin Eberhard (left, at bottom) says that lead investor Elon Musk (left, at top), who recently installed himself as the company's fourth CEO, made costly changes to the car's design and is "a terrible CEO." Musk's retort: "Martin is the worst individual I've ever had the displeasure of working with."Eberhard and Musk have long feuded, even before Musk ousted Eberhard as Tesla's CEO. But I'd note that for once, they're not outright contradicting each other here. It's far more common for Musk to have a version of events that conflicts with everyone else's accounting. His
history of events at PayPal
, the electronic-payments startup he cofounded, seems to be shared only by him. And Musk has been telling
everyone who will listen
that SpaceX, his rocket startup, has a "Nasa contract to build the Space Shuttle replacement after 2010." If you ask Nasa administrators, they'll say that's more than a stretch of the truth. (In fact, SpaceX is competing for a contract, but it has only hit some of the milestones; Nasa is currently planning to rent out space on Russian rockets to supply the International Space Station, and a future supply contract for SpaceX is a possibility, not a certainty.) So Musk has a tenuous relationship with reality. Is this a handicap in his business? Apple CEO Steve Jobs is famous for his "reality distortion field" — a charisma that leads others to believe the most exaggerated claims, because the vision behind them is so compelling. Of course, Jobs actually has brought his outlandish vision to life four times: With the Apple II, the Mac, the iPod, and the iPhone. Musk has realized the Roadster, and SpaceX has managed, after several crashes, to launch one lone rocket. He's also got SolarCity, a startup which installs solar panels on roofs. If in 2011, we live in a shiny future where we drive Tesla cars powered with clean electricity from SolarCity panels, and SpaceX's Falcon1 rockets are supplying orbital space stations, then we will be living in a reality of Musk's making — much as Jobs envisioned the iPod in the dark days of October 2001, and then, three years later, saw them everywhere on the New York subway. There's another possibility, however, which would also make Musk like Steve Jobs — the Jobs of two decades ago, who was forced out of Apple by the CEO he hired. Tesla could go under, SpaceX could fail to win the Nasa contract, and SolarCity could get beaten down by rival cleantech startups. And then Musk, driving his Roadster on the lonely roads of Silicon Valley, would find himself facing a reality not constructed in his mind. An unpleasant thought, that. Far easier just to succeed.